Over the last two years, we've been to some amazing places. But one of the most surprising was Montenegro. Nestled in between Croatia and Albania, Montenegro is a hidden treasure. Stunning mountains, sunny beaches, interesting ruins and friendly people.
So why isn't it more popular with the tourists?
I have no idea.
Sure, it's a little bit rough around the edges. The roads are a tad untidy and there are packs of street dogs in the towns. But look beyond the post-war struggles and you'll find the most beautiful places and welcoming, kind and wonderful people.
Our first day in Montenegro was spent collecting the hire car and recovering from our 7am flight from Stansted Airport. I won't be doing that again in a hurry. The queues were insane and despite arriving 2.5 hours before our flight with NO baggage to check in, we still only just made it to the gate on time!
When you travel as much as we do, you get a bit of a routine in place. Travel days are a write-off.  The kids are tired and grumpy and over-screened. We're tired and a little snappy too. So we get to our first Airbnb and chill out.
On day two we jumped in the car and drove up into the mountains to a place called Zabljak where we based ourselves for the next 4 days.
As we arrived at our Airbnb the host came out to meet us and explained in very basic English that our apartment was broken. Not ideal. But he had arranged for us to stay in another apartment nearby.
Now, we're experienced Airbnbers so we know all the scams. This sounded dodgy. There is one particular scam where you arrive at a place to be told it's no longer available due to some unforeseen circumstance, but there is another place for you to stay. When you get to it the host explains that it's a little more expensive than the original one you booked. You either fork over the extra cash or find yourself stranded with no place to stay in a foreign country.
So we followed him down some tiny little tracks, in between shack houses with goats in the road. My heart rate increased the further we went.
We arrived, got out of the car and were shown around the apartment.
I waited for the punch line and request for extra money…
The host stood in the doorway, handed me the keys and gave me his phone number. He wished us well and went on his way. No scam here. Just a helpful host.
That afternoon we hopped back in the car and made a 10 minute journey into the Durmitor National Park to The Black Lake.  Now, I'm not much of a researcher. I find the best adventures happen when you have a vague plan and a backpack.
So we didn't really know what to expect…
It was a pleasant surprise.
The National park was cheap to enter – Just a few Euros per person and free for the kids. The lake was stunning, with a hugesnowcapped mountain backdrop. There were trails to walk and play parks along the way for the kids.
But the best bit?
It was virtually empty. Aside from a few other families, the place was deserted. Leaving us free to enjoy the beauty and explore the park alone.
We spent 4 weeks travelling around Montenegro and it was one of our favourite trips yet. If you're looking for a relatively unknown place for an adventure then I highly recommend you put it at the top of your list.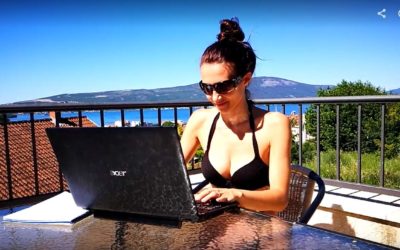 Finding a way to generate income while you're on the road is the best way to fund your travels. Saving a lump sum is fine, but earning on on the move can give you the freedom to go wherever you want, whenever you want to without the fear of running out of cash. There...