Whilst we don't really do massively "budget" travel, I do like to keep our costs down on the boring things. Like air travel. Flying is not a luxury for us, more of a necessary evil and so I like to spend as little as possible on our flights, keeping our cash free for more of the fun things.
One of the ways we do this is by flying hand luggage only.
Now, I know you're probably thinking "How on earth do they take everything they need for a family in just a rucksack?" But I promise you it's not only possible, but actually easy and I now wouldn't do it any other way even if checked baggage was free!
Here's how we've travelled to 18 countries with two kids and hand luggage only…
1: Get The Right Bags
If you choose your bags carefully you can be sure to get the maximum space within the Airline's limits. All airlines vary slightly but we've found Ryanair to have the smallest dimensions, so we bought bags to fit them.
We've bought both wheeley suitcases and backpacks and there are pros and cons for both. Having just completed a 4 week trip with backpacks, we've decided we definitely prefer wheeley suitcases – These are the ones we use. They have served us well for the last 18 months. They are easier to carry, because you can wheel them, and the kids can each be responsible for their own regardless of weight. But they are only made up of one main section, no little pockets, so your stuff all gets jumbled up. This can be overcome by buying packing blocks like these here.
2: Book Accommodation With A Washing Machine
Kind of obvious when you think about it, but if you always book accommodation with a washing machine you can take less clothes, which means less baggage. Airbnb lets you search for homes with a washing machine. If you haven't signed up for an Airbnb account yet then click the link here and you can get £25 free credit to spend on your first booking!
3: Take Less Clothes & Colour Co-ordinate Them!
For warm countries we only take 2 pairs of shorts, 4 tshirts, 1 hoodie, 1 pair of trousers and swimwear for each person. I usually take a dress for me too and an extra pair of trousers for Jake. Another great tip is to only take clothes that can be washed together in one colour load. When you've so few clothes you'll need to wash often, but you won't be able to manage a dark and a light load every day. We choose to go for all darks because we've got boys…and they like to play in the dirt.
4: Take Sensible Shoes
Shoes are big, heavy and take up a lot of space in your hand luggage. If you're going on a posh holiday you might want to take pretty shoes, but if you're travelling they really are just a waste of space. A good pair of trainers that are suitable for hiking and a pair of "wet" shoes such as flip flops, wetsuit shoes or sandals is all you need. We try to buy black, plain-looking hiking shoes so that they can pass for "smart" shoes in a restaurant.
5: Buy Travel Towels
You can never be sure if your accommodation will have adequate towels. Even the ones that say they do, sometimes disappoint. Travel towels like these here are tiny, compact and dry out quickly making them ideal for travelling hand luggage only travel with a family.
6: Buy Lightweight Laptops & Compact Tech  
We haven't actually done this yet because it's not been time for an upgrade for us, but I can't wait until we do! Heavy, bulky laptops are a huge pain when it comes to travelling. They take up space and make your hand luggage heavy to handle. Apple Macbooks are small, slim and lightweight but there are loads of windows based machines available too. This is actually our main challenge right now – We have three, big, heavy laptops that have to come with us on each trip!
7: Find Online Options For EVERYTHING
We use Kindle Unlimited for books and we have online curriculums for the kids homeschooling. Pretty much all the kids learning resources are online, with the exception of a handwriting practice book or two. You can get online colouring books, puzzle books, maths courses, science club…We do take some toys but we tend to stick to lightweight and small items like Lego.
8: Wear Your Biggest Items
On the day of your flight wear your biggest and bulkiest items. We usually wear our jeans and hiking shoes, then tie our hoodies round our waists if it's too hot to wear them. This saves space in the bags and makes sure we've maximised the items we can bring with us.
9: Pack Cleverly To Make The Most Of Your Space
Roll your clothes to compact them and make sure you squeeze things into every little space you have. If you've got shoes in your suitcase, fill them up with rolled up socks or other small items. Packing cubes, as mentioned earlier, can help with this as they allow you to compact things into small individual compartments within your bag.
Got any more hand luggage travel tips? Post them in the comments & remember to share this post with your travelling friends!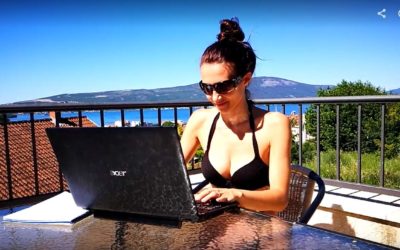 Finding a way to generate income while you're on the road is the best way to fund your travels. Saving a lump sum is fine, but earning on on the move can give you the freedom to go wherever you want, whenever you want to without the fear of running out of cash. There...